Andrea Pauli (Andi)
Principal Investigator
first.last@imp.ac.at / Germany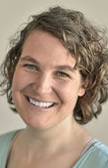 Andi studied biochemistry (1998-2002) in Regensburg, Germany, and molecular and cellular biology (2002-2004) at the Ruprecht-Karls University of Heidelberg in Germany. During this time, her love for basic research was born. Andi joined the labs of Kim Nasmyth and Barry Dickson as a joint Ph.D. student at the IMP in Vienna, Austria to uncover post-mitotic functions for cohesin in Drosophila. In 2006, Andi moved with Kim's lab to Oxford, UK where she obtained her D.Phil. (2009) and became an avid rower (Oxford Blues 2007-2008). For her post-doctoral studies (2009-2015), Andi traded flies for fish and joined Alex Schier's lab at Harvard University, USA. During this time, she made two key discoveries that have since shaped her research: (1) translation is widespread outside of annotated protein-coding regions, and (2) newly identified short proteins can have fundamental functions. Andi's work has been funded by several fellowships and awards: EMBO (2009-2010) and HFSP (2010-2013) long-term postdoctoral fellowships, the NIH grant to independence (K99) (2013-2015), the Chi-Bin Chien Award from the Genetics Society of America (2014), the HFSP Career Development Award (2015-2019), the FWF START Prize (2018-2024), and a Whitman Center Fellowship from the Marine Biological Labs (2018). Since 2015, Andi has had her own lab at the IMP.
Luis Enrique Cabrera Quio (Quio)
PhD Student
verylast@imp.ac.at / Mexico / Since December 2015

Quio studied Genomic Sciences at the National Autonomous University of Mexico (2010-2014). During his bachelor's thesis, he worked on plant embryo development in the laboratory of Stewart Gillmor at LANGEBIO. In 2014, Quio moved to Norwich, UK, to study plant-pathogen interactions at The Earlham Institute (formerly The Genome Analysis Centre) and The Sainsbury Laboratory. There, he used next generation sequencing techniques to understand the evolution of wheat pathogens under the supervision of Diane Saunders and Sophien Kamoun. Quio joined the Pauli lab in December 2015, where he is studying the regulation of translation during early embryogenesis. Quio was awarded The Boehringer Ingelheim Fonds PhD fellowship in 2016. Quio's hobbies include cooking new foods, watching musicals, and reading science fiction novels.
Krista Gert (née Briedis)
PhD Student
first.last@imp.ac.at / United States / Since September 2017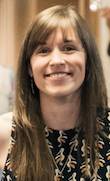 Krista is from the United States, where she attended North Park University and earned her Bachelor of Science degree (2010-2014) with a double major in Biology and Chemistry. She later completed her Master of Science degree (2015-2017) in Experimental and Medical Biosciences at Linköping University in Sweden. After giving cancer research a try early in her master's, she attended the VBC Summer School in 2016 and as a summer intern in the Pauli lab, returned to her favorite area of biology—development. Krista continued in the Pauli lab and completed her master's thesis on the characterization of vertebrate fertilization factors in fish, and subsequently joined the lab as a Ph.D. student starting September 2017. Her Ph.D. work focuses on the molecular players and species-specificity of vertebrate fertilization. Krista's other interests include marine biology and conservation, and she enjoys baking, figure skating, learning foreign languages, and riding her bike around Vienna.
Sarah Herberg
PhD student
first.last@imp.ac.at / Germany / Since November 2015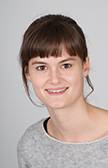 Sarah studied biochemistry and molecular biology at the University of Bayreuth in Germany (2009-2015). During her master's, she completed a 6-month-long internship in the lab of Sir John Gordon in Cambridge, where she studied the expression of retrotransposons during Xenopus laevis embryogenesis. For her master's thesis, she worked on cell cycle regulation during mitosis in the lab of Olaf Stemmann. In November 2015, she became the first Ph.D. student in the Pauli lab. Her project aims to unravel the molecular processes underlying fertilization. In May 2016, Sarah was awarded the DOC Fellowship from the Austrian Academy of Sciences (ÖAW) for her Ph.D. work. Outside of the lab, Sarah enjoys reading and learning Spanish with our lab manager Karin.
Tomáš Kazmar
Computer Scientist (joint with the Zimmer lab)
last@imp.ac.at / Czechia / Since May 2016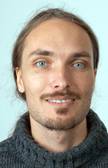 Tomas got his M.Sc. degree in computer graphics from the Charles University Prague (MFF) (2001-2008). Then he left academia and worked for over four years on various machine learning and computer vision topics in industry. He got his Ph.D. from the University of Vienna for his computational work on enhancer biology in the Alex Stark Group @ IMP and Christoph Lampert Group @ IST Austria (2011-2016). In the Pauli Lab, he develops image analysis methods for developmental biologists, mainly focusing on cell tracking in terabyte-sized data sets. He also works on imaging and image analysis methods for neuroscientists in the Zimmer Lab.
Frieda Leesch
PhD Student
katrin.last@imp.ac.at / Germany / Since October 2017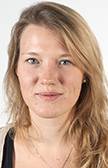 Frieda holds an M.Sc. degree in biochemistry from the Martin Luther University in Halle/Saale, Germany. She conducted her M.Sc. thesis (2015-2016) in the lab of Ruby Shalom-Feuerstein at Technion – Israel Institute of Technology, where she studied the function of microRNAs in skin development. Joining the Pauli lab as a Ph.D. student in October 2017, Frieda shifted her focus and is now interested in understanding translational regulation at the level of the ribosome during zebrafish development. Frieda currently holds the "newbie" status in the lab. In her free time, Frieda enjoys running and painting.
Karin Panser
Lab Manager
first.last@imp.ac.at / Austria / Since September 2015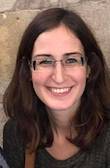 Karin is our only native Austrian. Karin studied Molecular Biotechnology for her master's degree at the University of Applied Sciences in Vienna (2006-2011). During that time, Karin performed her master's thesis work in Cambridge working with neurogenetics in Drosophila. She continued working with fruit flies in the Straw lab at the IMP, dissecting and staining thousands of fly brains. Joining the Pauli lab in 2015, she now takes care of thousands of zebrafish. She also works on characterizing selected small peptides involved in zebrafish development. Karin has a deep love for jellyfish and enjoys going to the theater, reading crime novels, and avoiding vegetables at all costs.
Carina Pribitzer
Lab Manager (joint with the Bell lab @IMBA)
first.last@imp.ac.at / Austria / Since August 2018

Carina obtained a BSc in Biology (2011) and a MSc in Genetics and Developmental Biology (2014) from the University of Vienna. For her Master's thesis, she studied gene regulatory elements in the sea anemone Nematostella vectensis. Afterwards she continued working with sea anemones at the University of Vienna and at the University of Bergen. In 2016, Carina started working as a research assistant in the Bell lab at IMBA, focusing on Polycomb biology in mouse embryonic stem cells. In the Pauli lab, Carina works on protein degradation systems in zebrafish. In her free time, she enjoys reading novels, playing billiards and singing in a choir.
Lisa Renz
Master Student
first.last@imp.ac.at / Austria / Since February 2018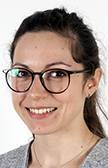 In 2016 Lisa received her B.Sc. for studying Medical and Pharmaceutical Biotechnology at the University of Applied Sciences, Krems, Austria. For her thesis, she joined the lab of Prof. Fiona Watt at the King's College London, where she investigated extrinsic and intrinsic signaling in the human interfollicular epidermal stem cell niche. During her Master studies, she aimed to uncover potential therapeutic peptides targeting colon cancer by means of phage displays at the R&D department of her home university. In September 2017, she went back to her greatest interests – stem cell and developmental biology - when joining the Pauli Lab. Consequently, in February 2018 she started in the Pauli Lab as a master student focusing on the role of Toddler in regulating gastrulation movements. Outside the lab, Lisa enjoys outdoor sports reaching from hiking and climbing to mountain-biking and ski-touring.
Friederike Schlumm
Technician
first.last@imp.ac.at / Germany / Since April 2018

Friederike joined our lab recently as a technician in a Boehringer Ingelheim collaboration. She obtained her master's degree in neuroscience from the Ruprecht-Karls-University in Heidelberg, Germany (2006-2012). Her thesis focused on nuclear calcium signaling in neurons and its influence on gene expression. Then she moved from cell culture work to organismal research and joined the lab of Alipasha Vaziri at the IMP in Vienna as a PhD student, where she was working on the neuronal dynamics in the zebrafish larval brain (2013-2018). Friederike is an active member of the Vienna skeptics community and a co-organizer of the Austrian science festival "WissensDurst".
Jessica Stock
PhD Student
first.last@imp.ac.at / Germany / Since November 2016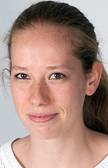 Jessica received a B.Sc. degree in Biochemistry from the Free University of Berlin in 2015. She continued with an M.Res. degree in Molecular Cell Biology at the University of Nottingham from 2015 to 2016. For her thesis, she investigated the role of Armadillo repeat proteins in Plasmodium berghei invasion and migration. Jessica has been a Ph.D. student in the Pauli lab since November 2016, working on the role and mechanism of Toddler signaling during the process of zebrafish gastrulation. Jessica is the lab's TV show expert, enjoys listening to music, and plays volleyball in her free time.
Xue Strobl
Master Student (joint with the Cochella lab)
first.last@imp.ac.at / Austria / Since October 2017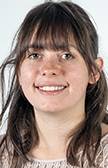 Xué was born in Colombia, but grew up in Tyrol, Austria. In 2012, she moved to Vienna to start her bachelor studies in biology. For her bachelor's thesis, she worked on RNA editing in the Jantsch lab at the MFPL in Vienna. In summer 2017, Xué moved on to an internship in cancer research to study skeletal muscle turnover at the Bergmann lab at the Karolinska Institute in Stockholm, Sweden. Currently, she is a joint master student in the Pauli and Cochella labs. Her project focuses on small RNAs in early zebrafish development. 
Dori the Zebrafish
Mascot
not.that.we.know.of@imp.ac.at / Deep Sea

Interns
Benjamin Steinmetz
Intern
first.last@imp.ac.at / Austria / Since September 2018
Former members
Krista Briedis (VBC Summer Student (2016) & Master student (2017)), July 2016–August 2017
Nina El-Asrag (Intern), September 2016–September 2017
Tiago Lubiana Alves (VBC Summer Student), July–August 2017
Alicia Peschel (Intern), April–June 2016
Lisa Renz (Intern), September 2017–September 2017
Felicia Spitzer (Intern), November 2017–March 2018
Sabrina Wohlhaupter (Intern), January–March 2017
Teresa Zanin (Intern), June–July 2018